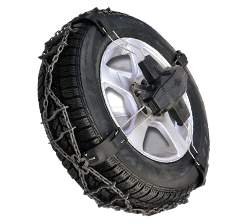 Conditions for Use:
Most aggressive traction of all. Ideal for use on ice and snow where snow depths exceed 5" to 6" in depth. More appropriate in hilly areas and steep grades. Excellent for very wide tires. Provides great traction on wet grass, mud and sand.
Adjustable?
Yes, the steel trac can be adjusted by changing the position of the safety clips in various portions of the trac.
Hub System
No hub system
Adding the Traction Ovals
For Easy Alpine Pro Style install the fastening system to the lugs and drape the traction element over the tire and pull the red tensioning strip. Repeat the other tire. Get in the vehicle and drive away the traction elements will self mount.
Maximum Operating Speed
Recommended Operating Speed is 30 mph (46 km/hr)
Materials in the Product:
Swiss Made Quality Product made of stainless steel and permanently elastic wear resistant polymer materials.
Removing the Traction Ovals (elements):
To remove the traction elements, stop the vehicle release the tensioners pull the traction elements away from the tire and pull forward a couple of tire revolutions and the elements will fall off. Put the equipment in the storage bag.